Looking for the best NFT YouTube channels? It's only natural since NFTs are one of the biggest crazes in the world.
Chances are, you've come across several articles or posts talking about how NFTs are the future of art and investment.
Not only this but examples of several artists and NFT owners making millions.
No worries, I've listed 5 best NFT YouTube channels that can give you the education you're trying to get.
Before We Begin the List for the Best NFT YouTube Channels
Managing expectations is a tough task, especially while recommending something.
As I did definitive research for the best NFT YouTubers, there were a lot of factors that contributed to my selection process.
First, let's address these things.
It's a Personal Preference
After watching countless videos, I chose channels that were the best overall in a specific aspect.
Obviously, what I found useful may or may not suit your case entirely.
That's because no channel or YouTuber is the same and each of them has their own style to talk about NFTs.
Subscribers & Likes are not Everything
The NFT scene is relatively new and as a result, there are only a few active people who are trying to watch videos about it.
If at all, people watch popular YouTubers in the finance niche to learn about NFTs.
While that might not be inherently bad, the content is usually inconsistent and not always about NFTs.
Therefore, a lot of NFT specific channels have a slightly lower following because of a narrowed-down topic.
In short, cut the hype and get straight to the facts!
Consistency of Uploads is Priceless
A major problem I found with NFT videos is the rarity and inconsistent uploads among a few big names.
If you're solely looking for NFT content, you should ideally go for a channel that has regular videos and content about NFTs.
Blindly Following the Guides is Dangerous
With NFTs, you're dealing with your hard-earned money and savings.
So, you shouldn't pour it just because someone tells you to buy an image of a potato for $1.50, as it might get popular down the road.
Trusting your own gut over someone else's is always better.
Besides, you should only watch NFT videos for educational purposes and not as a piece of financial advice.
You get the idea, right? Now…
Listen to Multiple Opinions & Choose your Own Path
A good way to confirm the authenticity of some news is by following multiple sources.
After all, you won't reinvent the wheel or make mistakes that others might make.
That's all for the considerations, let's get on to the list!
5 Best NFT YouTube Channels you Can Learn from
1. NFT Times – Tips to Learn the Basics of Buying, Selling & Marketing NFTs
Starting the list with one of the best NFT YouTube channels, NFT Times is a great source for learning the basics.
If you're an absolute beginner, you will love the channel.
The most outstanding features of NFT Times are great production quality, easy explanations, and a nice presenter.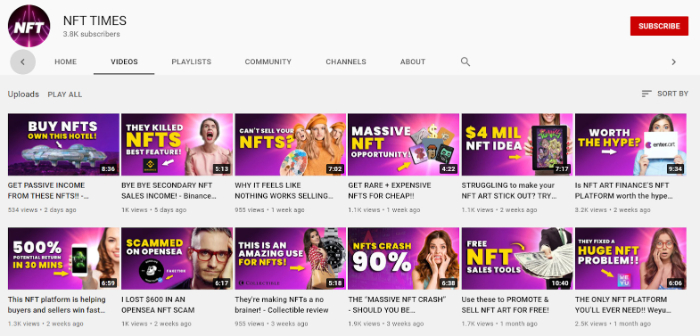 The channel is also fairly new and was started by Mr. Fungible in March 2021.
However, the quality of content will make you think otherwise.
What Makes Mr. Fungible a Good Instructor?
The presenter of NFT Times, Mr. Fungible has been in the digital marketing industry for over 7 years.
He doesn't speak about the high-level things that may go over your head.
Instead, he has several videos dedicated to the basics and advanced topics about NFTs.
How Consistent is NFT Times?
For an NFT-specific channel, the uploads are consistent at about 3 videos a week.
I predict that this will stay the same in the coming months as well.
My Favourite Video on NFT Times
2. The NFT Podcast – Lengthy Discussions About NFTs
The NFT Podcast covers different aspects of NFTs and the current happenings in a podcast format.
The host Francesco Vincenti is a great presenter who invites several well-known NFT artists to the podcast and covers their journey.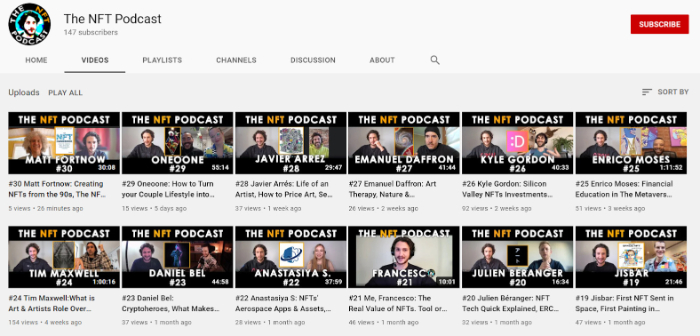 The videos are highly educational and entertaining to watch.
In fact, you can gain a decent amount of knowledge about NFTs by listening to them.
The NFT Podcast was launched in March 2021 and it's a new channel.
Although it's not one of the most popular channels, you will definitely find their videos helpful.
What Makes Francesco a Good Presenter?
Francesco is a great individual with decent knowledge of NFTs.
His ability to ask the right questions that viewers may have and keeping the podcast engaging and entertaining makes him great.
How Consistent is the NFT Podcast
The frequency of uploads by The NFT Podcast is consistent at around 2 videos per week.
My Favourite Video on The NFT Podcast
3. NFT Daily News – Stay Informed About the Latest in the NFT World
For a daily dose of NFT content, this is a great channel to follow.
The presenter of NFT Daily, Nick follows a basic format of going over the most popular news and articles about NFTs.
He also gives an opinion at the end of his video, isn't that cool?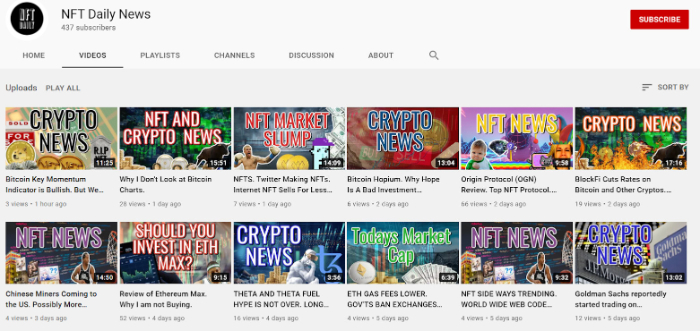 The channel was launched back in August 2015. But, the channel has only begun posting daily content in recent months.
What Makes Nick a Good Presenter?
Nick talks about the news from a neutral side to give the most accurate information without diluting things.
Overall, you won't need to look elsewhere to know the latest NFT trends.
How Consistent is NFT Daily?
As mentioned earlier, the channel was launched a few years back but the videos only started coming in since the last few months.
With that being said, the uploads are now consistent with daily videos.
My Favourite Video on NFT Daily
4. NFT NYC – Interviews & Panel Discussions
Unlike the other best NFT YouTube channels mentioned on this list, NFT NYC has been inactive for the last year.
The videos on this channel featured interviews and panel discussions with several experienced people in the industry.
Ian Utile, the presenter of the NFT NYC has created a platform to express the views of some of the big names in the NFT Market.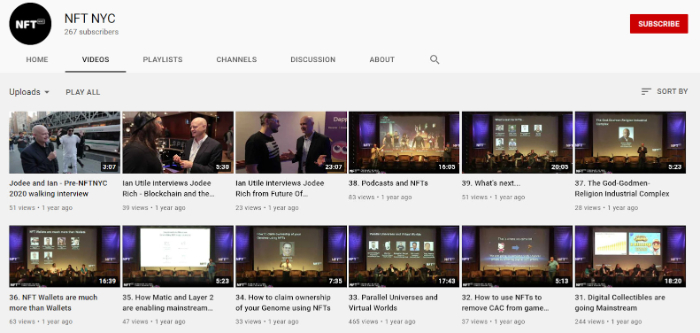 The channel was originally created back in January 2019 and there have been no uploads since March 2020.
What Makes Ian a Good Presenter?
Ian Utile is an entrepreneur himself as the founder & CEO of attn.live and the co-founder of NFT NYC.
His experience as an entrepreneur is great enough to grasp the business side of NFTs.
How Consistent is NFT NYC?
If you're looking for consistent uploads, NFT NYC is not for you as we already mentioned about the lack of videos in recent times.
In case you want to hear the discussions and interviews, this channel has a lot of videos to keep you engaged for weeks.
My Favorite Video on NFT NYC
5. Sam Ellis NFT – Digital NFT Collectibles & General VeVe Platform Trivia
Sam Ellis NFT is a YouTuber who makes videos specifically about the VeVe NFT platform.
The presenter Sam does a great job at explaining the happenings around VeVe NFT platform in great detail.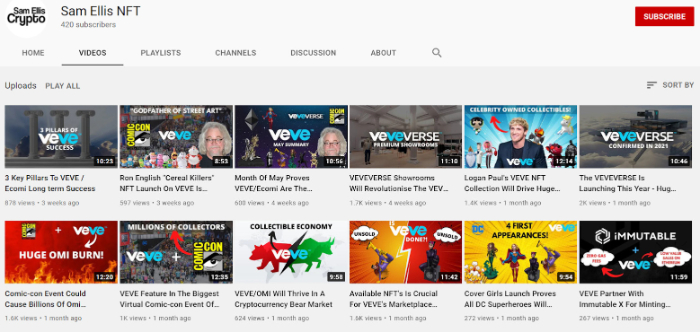 It was launched recently in April 2021 and features news/discussion style videos about digital NFT collectibles & the VeVe platform.

What Makes Sam a Good Presenter?
Sam is highly enthusiastic and energetic in his videos which makes it highly entertaining to watch them.
He also explains the articles and topics in a fun way that is easy to understand for all types of viewers.
How Consistent is Sam Ellis NFT?
Although there isn't much to analyze the consistency, we can form a good estimate that the channel will be fairly consistent.
So far, the videos have been uploading at a rate of about 3 to 4 videos per week.
My Favorite Video on Sam Ellis NFT
Winding Up
All of these channels have distinct features and video formats.
The one thing that is common about all of them is great insightful content for NFT enthusiasts.
If you are a complete beginner, head over to the NFT Times. They have wonderful beginner guides for artists and NFT creators.
On the other hand, if you have a bit of experience with NFTs, watch NFT Daily and listen to The NFT Podcast.
These are great options to stay up-to-date about NFTs.
Regardless, be sure to check them all out and see if you find this list useful!