Beeple, Beeple, and Beeple! He is everywhere and looks like the reason you're looking for the best NFT marketplaces.
Those who are here must be already aware of the fact that Beeple's bid started at $100 and skyrocketed up to $69.3 million. So of course, the story is truly inspiring.
Now that you consider yourself as an upcoming artist who can pull off something like this or at least 10% of it, you can leverage the opportunity and go with these best NFT marketplaces. Or maybe, you could just be a buyer who wants to flip. Either way, this article is a lifesaver!
But wait, before we look into the best marketplaces, I'd like to give a little brief about the factors that you should consider before choosing your NFT marketplace. So here we go!
Factors to Consider Before Choosing an NFT Marketplace
A person who doesn't know how to buy a fish would definitely pay more for the wrong one. And yes, that applies to NFT marketplaces too. Being an artist or buyer, you have to understand these factors before making a final decision.
Check the Average Bidding Values
This is something that no other website has told you so far. Once you look at these best NFT marketplaces, you will see an activity tab on most of the websites.
Such activity tabs give you stats like:
Sales
Transfers
Bids
Listings
Likes
Followings
All the points I've mentioned above are indicators that most people miss. For example, sales and bids tell us the potential one can get from a marketplace. On the other hand, listings, likes, and following represent how alive a platform is!
Beware of the Royalties (Most Important for Creators)
Let's just say, you sold your piece to a guy called Bob. In a few days, Bob sells it to someone else. Do you know you will still get a cut from what Bob got? Of course, You!
When someone buys from you and sells it to someone else, you get a cut and that's what we call a secondary sale.
Being an original creator, you can expect anywhere near 5-10% royalty depending on your NFT marketplace.
Before making a call, it's always great to see the long-term earning potential. If I were an artist, I'd definitely go for something like 10%.
Another thing to note here is, whether the marketplace provides cross-platform royalties or not. If there's no such thing, you might end up losing even that 10%.
Is it Compatible with the Type of Art You're Interested In?
From my perspective, this is the first thing you should look at before knowing anything else about a platform.
Music, sketching, digital designing, photography, memes, or whatever – various arts and artists. So if a platform doesn't have the type of NFT art you're looking for, it would be a waste of time to explore it further.
An NFT Marketplace Should Pe Popular Enough
As you know, investing in a platform that has the potential to run away with your money isn't a great idea. So I'd recommend taking a look at the press releases or the founding date of the NFT marketplace.
What's Your Payment Option?
Friends are useful but you can't use them as much as you want, right? If an NFT platform doesn't support the payment method you have, you may have to call your friend to convert the currency you have. But, for how long are you gonna do this?
To avoid such situations, make sure to see what a platform accepts and what not.
9 of the Best NFT Marketplaces
When I first got into NFT, I was stunned literally because hours of research and exhaustion lead to only one thing – confusion!
But yes, practice makes a man perfect. So after the nitty-gritty work, I discovered the best NFT marketplaces that would rock in 2021 and beyond.
OpenSea – The First & The Biggest
Devin Finzer founded OpenSea in 2017 which is the first and the biggest marketplace for user-owned digital goods. From collectible to domain names – these goods can be anything!
So basically, OpenSea marketplace has a wide variety of digital products you can buy or sell.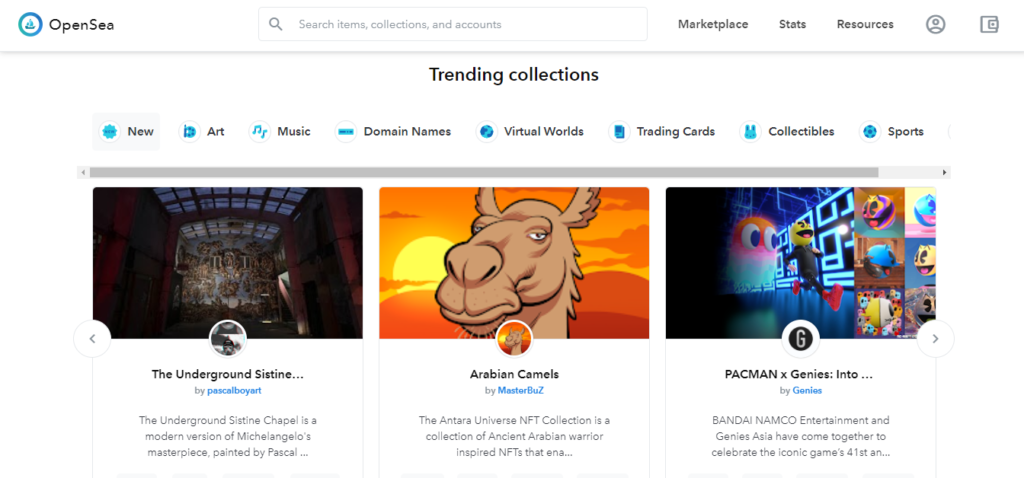 In recent years, many artists have been pushing art to a whole new level. CryptoPunks (a form of art) marked the beginning of this great art revolution. And guess what? The demand of 10,000 such punks was seen in 2017 that led to a boom in art products that year. From SuperRare to JOY you can browse, choose, and buy or sell NFTs worldwide.
Nowadays, music has been bought and sold frequently and it's changing the way fans choose their new favorite. From 3LAU to Imogen Heap, everyone's liking the OpenSea marketplace! Speculators, NFT traders, and metaverse natives leverage OpenSea to buy and sell domain names that turn hexadecimal wallet addresses into normal language readable to humans.
Not only this, a whole new era of Virtual Reality has been explored to a great extent on OpenSea. People create virtual worlds where you can play games, just roam around in your own world, and do a bunch of other stuff! It's quite intriguing and a great digital product.
OpenSea also allows buying and selling trading cards in various games like Sorare, Gods Unchained, etc. You can own, buy, and sell collectibles like CryptoKittnes, Axie, Infinity, and many more on OpenSea. You can even buy and sell NFTs from the top sports brands in games like golf, football, F1, and much more!
NFTs You Can Buy or Sell on OpenSea
| | | |
| --- | --- | --- |
| Art | Music | Domain Names |
| Virtual Worlds | Trading Cards | Collectibles |
| Sports | Utility | |
Opensea category list
SuperRare – The 'Super Rate' Digital Art Platform
John Crain founded SuperRare in 2018. It's a marketplace to buy and sell rare single-edition digital artworks. SuperRare is a P2P marketplace for NFTs built on Ethereum.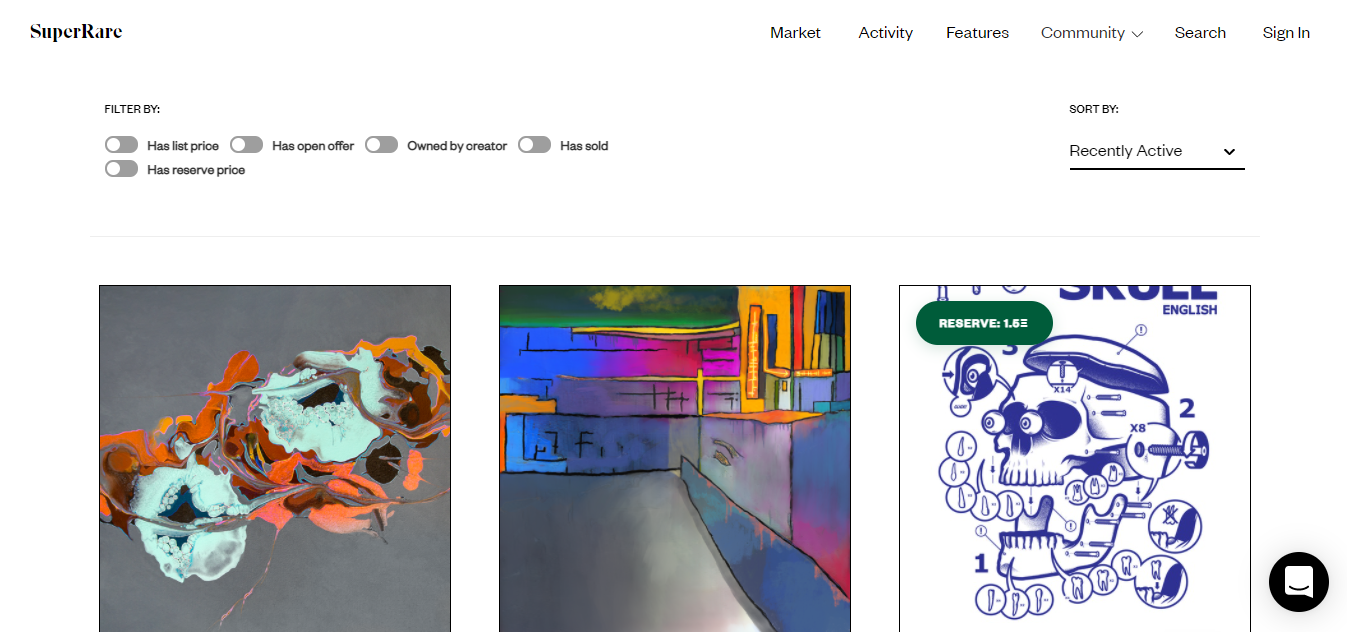 On SuperRare, it's possible to sell anything that is digitally created. The platform is still in early access. It takes a handful of artists by verifying and making sure the art is rare and impactful. All you want to do is submit your artist profile and wait for the selection. Along with this, you also need an Ethereum wallet if you want to buy or sell NFTs on SuperRare.
By the way, a seller has to pay a fee of 3% for each art piece. That's the platform usage fee and it's quite nominal. You can also earn on SuperRare by selling other artist's products. For primary sales, you get a 15% commission. On the other hand, secondary ones give up to 10%.
NFTs You Can Buy or Sell on SuperRare
Foundation – Mint and Auction Your NFTs
Kayvon Tehranian founded Foundation in February 2021. Since then, the creators of digital art have earned about $40M in NFTs. The platform supports thousands of artists, some of them being Nadya Tolokonnikova of Pussy Riot, Yung Jake, Zach Lieberman, Sarah Zucker.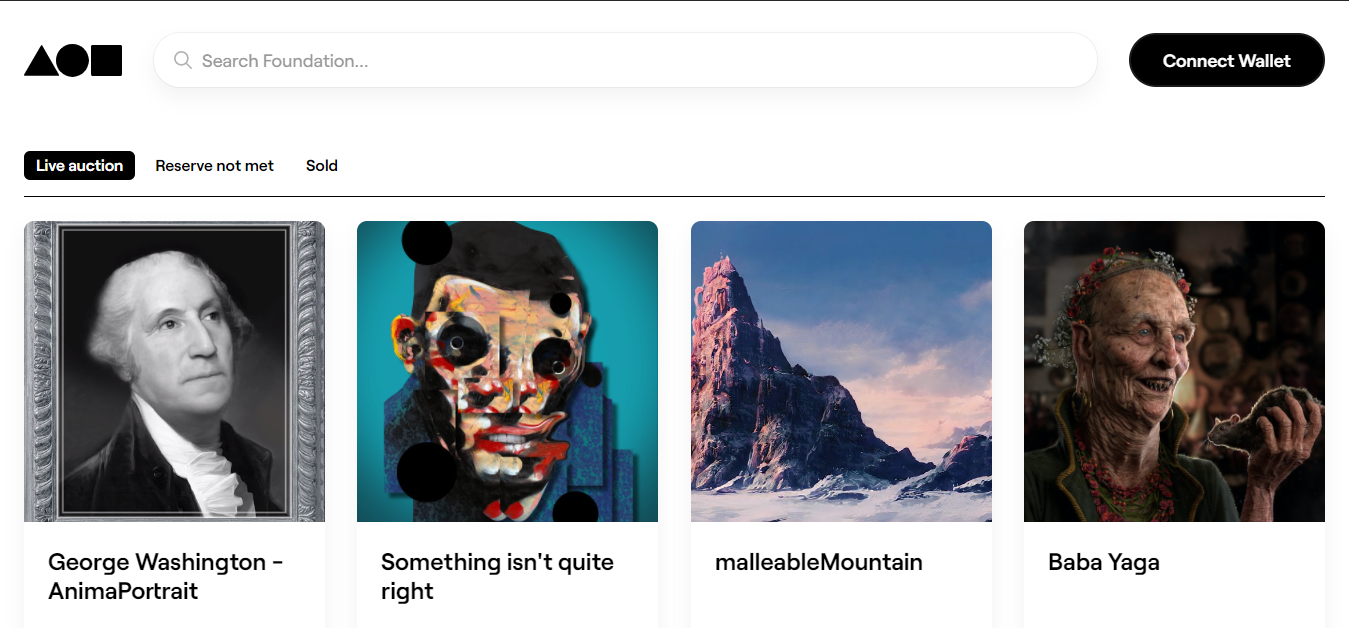 The platform works differently for different entities. Let's first see how to go around the platform if you're a creator.
You will be invited to join the Foundation from members of the community. To use Foundation, an Ethereum wallet is a must, so in case you don't have one, you will have to create it before selling your NFTs.
After registration, you will Mint an NFT – upload a JPG, PNG, Video, or an IPFS file on the platform. Once you do so, your art will successfully be an NFT. After that, this can be priced or put for an auction by the creator.
Anyone can be a collector on Foundation. You can start collecting NFTs and selling them to interested buyers right away.
So all in all, the platform is modern and a famous one to sell, collect, and buy NFTs.
NFTs You Can Buy or Sell on Foundation
Rarible – Super Easy Minting
Alexander Salnikov founded Rarible NFT marketplace in 2020. All digital items can be minted, bought, and sold on Rarible. Just like other platforms, Rarible is built on Ethereum blockchain technology.

Rarible is known for its extremely easy minting process. In 2020, the platform launched its first NFT token RARI. In the 2021 seed funding round of Rarible, they were successful in raising $1.75 billion.
The platform introduces sellers to digital art buyers and the transactions happen through smart contracts and are logged on a blockchain ledger.
The platform also has the power to integrate with other platforms like OpenSea which gives a wide variety of buyers, collectors, and sellers.
To be in the Rarible community, you can join Rarible's Twitter, Discord, Telegram and Instagram accounts.
A service fee of 2.5% is charged per sale on both ends of the transaction. In case a seller is too generous, he has the option to pay the whole fee (5%) making it free to sell for a seller.
NFTs You Can Buy or Sell on Rarible
| | | |
| --- | --- | --- |
| Art | Photography | Games |
| Music | Metaverses | Memes |
| Punks | Domain names | DeFi |
Enjin – The Hub of Buying & Selling Games
Enjin is an old player in the crypto market. Maxim Blagov founded it in 2009, but the platform shifted its primary focus to NFT in 2017. Enjin was successful in raising $18.9 billion for its first dedicated NFT on the Polkadot network.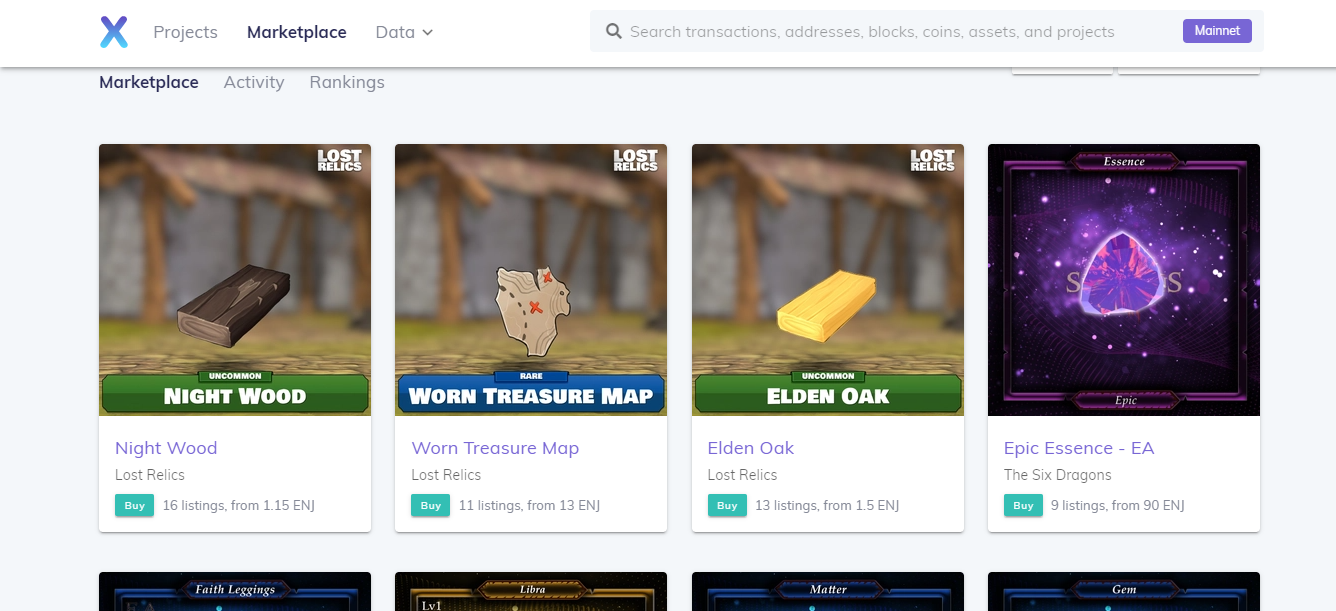 The platform has its own coin called Enjin Coin that's infused into NFTs through minting.
Note: 1 Enjin Coin (ENJ) = $1.11
These NFTs exist on a blockchain making them powerful and secure. So a buyer can just buy these NFTs with Enjin coins.
One unique feature of these coins is that the NFTs created with them can be melted back. So you can melt an NFT to Enjin coins and then to USD. Therefore, these coins hold real-life value.
The platform has been successful in enabling $43.8M worth of Enjin coins to be spent on digital assets and about 2.1 billion NFTs have been made to date.
NFTs You Can Buy or Sell on Enjin
Enjin is meant for trading all kinds of digital assets in Games only
NFT Showroom
Bruce Woodruff founded NFT Showroom in 2020. The platform is based on HIVE-blockchain. Compared to OpenSea, SuperRare, NFT Showroom is a small marketplace but I see great potential in this platform.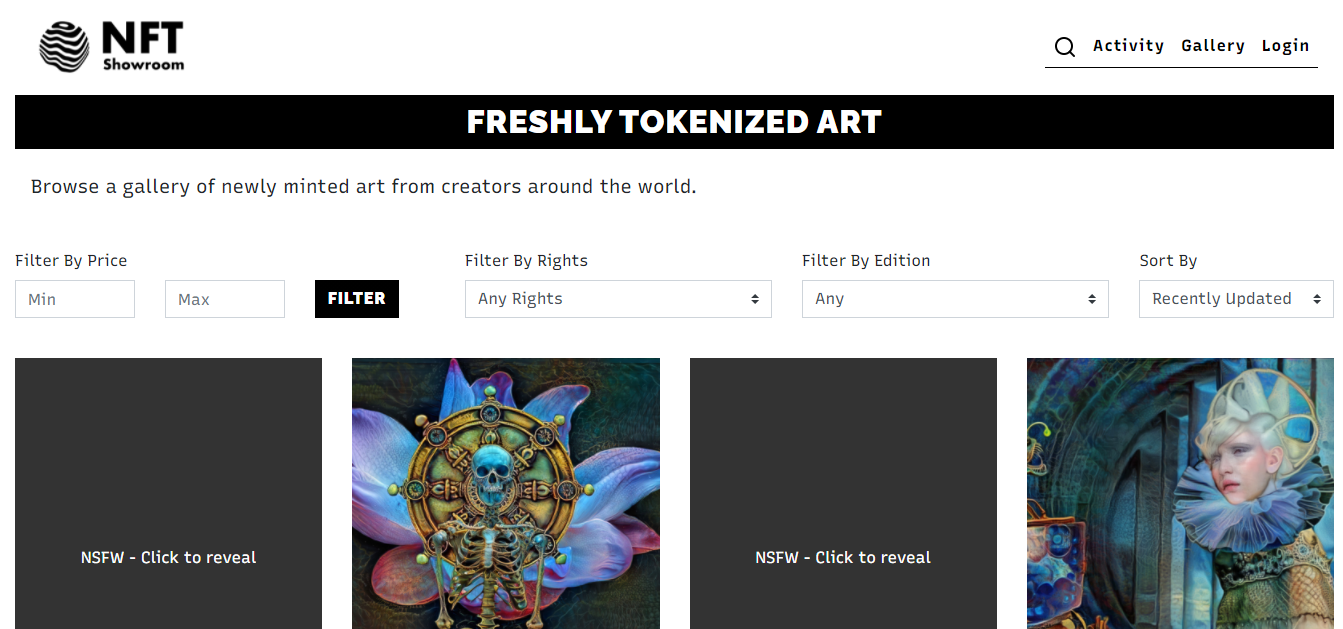 So to begin collecting and selling NFTs, you need a Hive account and Hive Keychain. The Hive Keychain is an extension for safe and secure transactions. You can download this extension on Chrome, Brave, and Mozilla.
The platform uses Hive cryptocurrency, which is used to mint digital art products as well.
Note: 1 Hive = 2.98 CA.
NFT Showroom leverages NFT smart contracts on Hive-Engine to run the digital operations smoothly.
The token used by the Hive-Engine is called SWAP.HIVE. All the transactions are executed by this token only. For buying or collecting NFTs on NFT Showroom, a user has to convert Hive to SWAP.HIVE which can be done in your NFT wallet on the official NFT Showroom website.
It costs 5 SWAP.HIVE + 1 SWAP.Hive per edition to create NFT on NFT Showroom. The commission per sale is 10%.
So, this platform has just one downside which is the high commission rate. Apart from this, the platform is quite promising and evolving day by day.
NFTs You Can Buy or Sell on NFT Showroom
The platform deals with limited edition artworks only. There are some requirements that you might want to know before uploading your artwork on this platform.
Supported formats: JPEG, PNG, GIF, and MP4
Size limitations:
Images (JPEG, PNG, GIF): 30 MB Max
MP4: 100 MB Max
Must upload a thumbnail for each artwork (Size- 1 MB)
Ethernity – The Charitable NFT Platform
Nick Rose Ntertsas founded Ethernity in 2003. The company has its headquarters in Israel. Just like the majority of NFT platforms, Ethernity is built on the Ethereum network. The mission of this platform is to build the largest A-NFT library while keep rewarding its creators and raising funds for charity forever.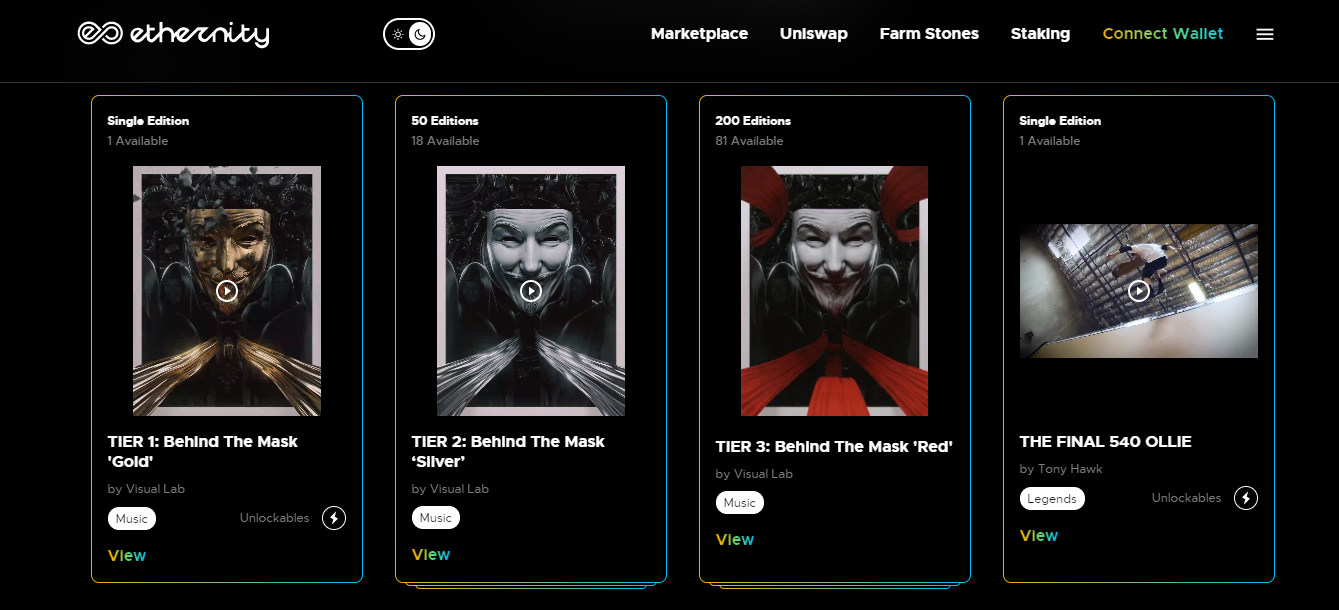 Ethernity uses ERN tokens for all NFT trades – a native token to the platform. The transaction/platform fee for Ethernity is 10%. So if you buy NFT worth 90 USD, you will have to pay 100 USD.
The whole process of NFT trading is quite simple on Ethernity.
The artist produces digital artwork
The artwork is uploaded and gets verified with a verified icon via Ethernity
The limited editions are then available through sales and auctions
The buyers bid or buy these artworks and claim these NFTs
A part of each A-NFT transaction goes to charities and ERN holders
A-NFT holders can put their collections on sales and auctions
NFTs You Can Buy or Sell on Ethernity
Buy, collect, or sell digital artwork and trading cards on Ethernity
Decentraland – Create, Explore & Trade
Esteban Ordano and Ari Meilich founded Decentraland in 2017. The platform allows buyers to buy virtual worlds and then develop them further as virtual businesses.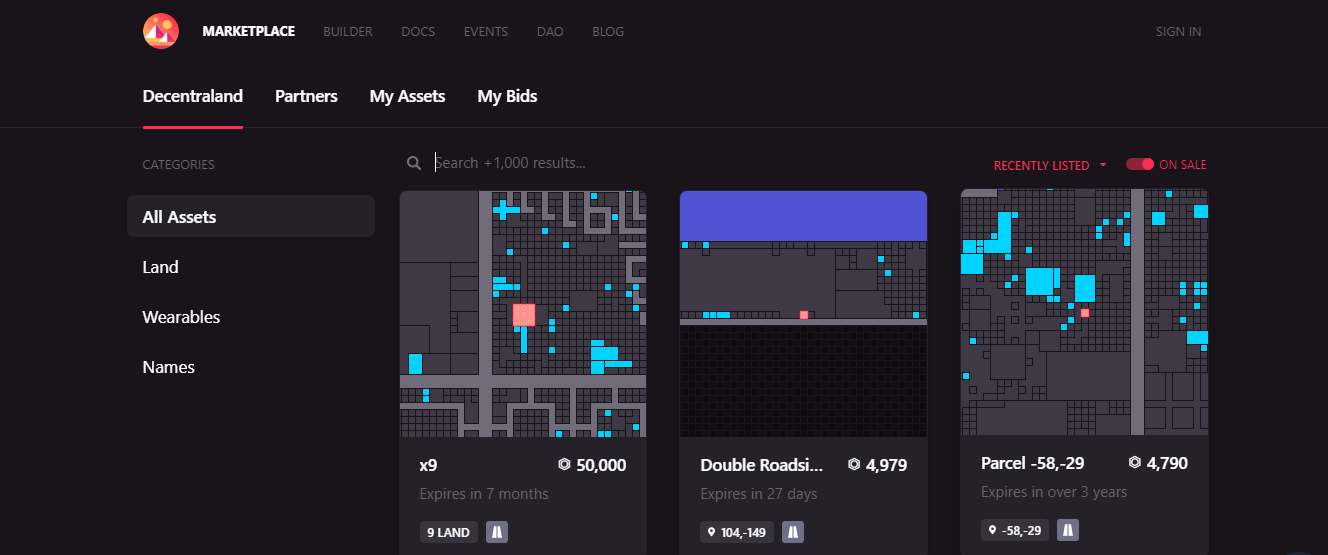 At Decentraland, you can explore LANDs that users have made. From space adventure to the BC era, you can get all kinds of virtual worlds here. The platform even allows you to create your own scenes, artworks, challenges, and much more. It has a simple builder to make it all possible. The platform also lets you take part in events and win prizes.
Decentraland is equipped with an SDK for those who want to kick things up a notch in the virtual world.
You can buy virtual stuff like LAND, estates, wearables, funky-looking avatars, and whatnot at Decentraland Marketplace.
The native cryptocurrency of Dencentraland is MANA, which powers all the trades across the platform. These are fugile tokens meaning each MANA token has the exact same value as the other and these tokens can be minted and melted back.
There's one other token ERC-721 like the LAND and Estates in the Dencetraland that are non-fugile (NFTs) and once minted can't be melted to a token. These tokens are used to create in-world items like avatars, wearables, and much more.
One major drawback of the platform is its extremely high Gas fee.
NFTs You Can Buy or Sell on Dencentraland
The primary focus of Dencentraland is on buyers and creators of Virtual worlds
SuperFarm – Farm & Earn
Elliot Wainman founded SuperFarm, which is a cross-chain DeFi protocol. The platform completed its 1st NFT drop on May 21, 2021. Since then, the project has raised $2.81 million.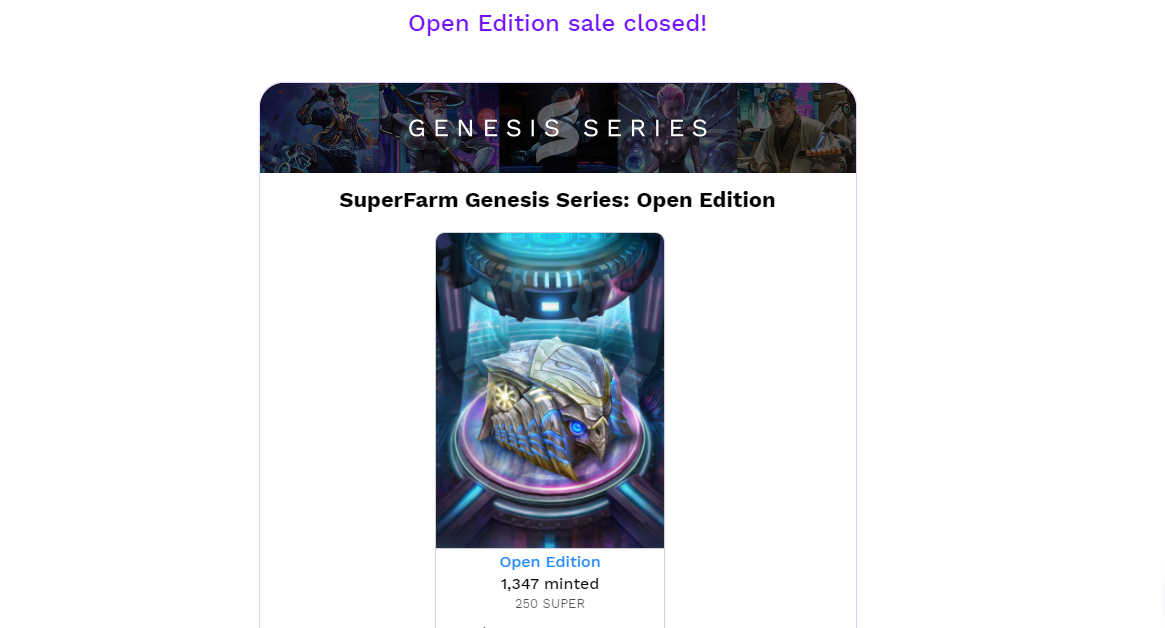 The native utility token of SuperFarm is SUPER. This token was launched via IDO on Polkastarter on March 22, 2021.
Note: 1 SUPER token = $0.025
You can buy these SUPER tokens on Binance exchange.
There are 3 things you can do on SuperFarm:
NFT Farming: Set up your farms, mint new NFTs, and sell them at your custom made marketplace
NFT Store: Redeem and purchase NFTs with cryptocurrencies
NFT Creation: Generate NFTs from SuperFarm's intuitive interface
NFTs You Can Buy or Sell on SuperFarm
The primary focus of SuperFarm is to sell video games only
Final Advice!
Phew! So finally you've hit rock bottom. Alright, all these 9 NFT marketplaces mentioned above are the ones that made it to the list after in-depth analysis and testing.
In my opinion, OpenSea is my first preference as it has a wide market for NFTs and it's the oldest and most known marketplace in the NFT world. And the other one for me would be Rarible due to its easy minting process and quite an attractive interface.
But yeah, you don't need to follow up with my opinion. You can test the other marketplaces according to your personal needs and get on with selling your stunning works on one of these 9 best NFT marketplaces.
Happy Minting!